Lenane Precision Join UMI Aero Group
Lenane Precision collaborate in partnership across four countries.
The signing of the UMI AERO GROUP agreement accelerates Lenane Precision's strategy of becoming a leading supplier in the aerospace sector
– Jim Lenane
Along with a number of other Irish engineering companies Lenane Precision has joined UMI Aeronautica of Spain and Morocco and Officina Mecannica Irpine (OMI) of Italy to form the UMI Aero Group, a collaborative group of machining and assembly companies in the aerospace market. For more details read the full UMI Aero Group press release below.
June 19th, 2019 | News, Press release
UMI Aeronautica of Spain, Officina Mecannica Irpine (OMI) of Italy, Takumi Precision Engineering, Lenane Precision, DPF Engineering and Shannon Precision Engineering of Ireland have announced the signature of a partnership agreement between them, aimed at furthering their combined machining and assembling capabilities in the international aerospace market. This innovative Partnership offer will take shape this year through the creation of UMI AERO GROUP, based in Sevilla, Spain.
The UMI AERO GROUP and Partners management teams have signed a memorandum of understanding formalising the groups' ambition to seek mutual synergies between their international initiatives.
The agreement will lead to sharing of commercial information and pooling of operational resources (sites, teams, networks, know-how, etc.). It reflects UMI AERO GROUP's determination to accelerate its international expansion and forge strategic partnerships to foster the establishment of new sites, and to pursue the development of its industrial and service offer, targeting the aviation, defence and space markets.
UMI AERO GROUP will combine a total 12 manufacturing sites in 4 Countries (Spain, Italy, Ireland and Morocco), over 220 machining & turning Manufacturing Units, offering over 500.000 free manufacturing hours to the market. It will also offer NDT, Heat & Surface Treatments, Painting and Assembling. Composite capabilities with RTM and Composites manual lay-up can be offered within the Partners.
'The signature of this agreement of UMI AERO GROUP confirms the Partners's strategy of building strong, meaningful partnerships with leading aeronautical mid-caps, supporting its clients in their international development and growing its own business worldwide. '
Antonio RAMIREZ, CEO of UMI Aeronautica
'In a historical moment in which the European Union is questioned, the old continent's companies show to be foresight and a step forward once again.
This agreement, in fact, is the plastic demonstration that only through a supranational system, results can be positive for individual countries. Let us put aside the differences, giving precedence to the moral values that unite us: territory's development, job creations, innovation, research. Europe is growing thanks to synergies.

OMI is proud to be part of this innovative project and is convinced that companies agreements are the best way to go. Finally, with this agreement we show that even in Southern Italy there is an entrepreneurial ecosystem that deserves to be known and valued. '
Andrea VILLANO, CMO of OMI
'This agreement further demonstrates Takumi's commitment to work in collaborative partnerships that protects and enhances our capabilities to support our customer's needs. Takumi's success has been built on our collaborative approach and the value we gain when we collaborate.'
Gerry Reynolds, Managing Director of Takumi Engineering
'The signing of the UMI AERO GROUP agreement accelerates Lenane Precision's strategy of becoming a leading supplier in the aerospace sector, we look forward to building a lasting relationship with our international partners and developing strategic alliances in the aerospace market.'
Jim Lenane, Managing Director of Lenane Precision
'The signing of the UMI AERO GROUP agreement underpins our commitment to developing collaborative relationships in the Worldwide Aerospace Supply Chain, and our shared resource and drive will position the group to be an extremely strong partner to Aerospace OEM's and Tier 1 companies.'
Seamus LANCASTER, Managing Director of DPF Engineering
'This agreement is a signal of intent from the partners to take a major step forward and lay the foundation for a new European industrial ecosystem in Aerospace. UMI Aero Group is the platform for high performance, collaboration, advanced manufacturing and strategic partnerships servicing the aerospace industry.'
Dominic Murphy, Managing Director of DPF
'The signature of the UMI AERO GROUP agreement demonstrates that in order to support the global market, it is mandatory to promote international partnerships. The Aerospace Market has great future potential and AERO SM is key to assist its customers in their endeavours. '
Joaquin Gonzalez-Stetzelberg, CEO of AERO SM Associates
'Businesses once grew in one of two ways; organic growth or by acquisition. Today businesses can grow by partnerships allowing each partner to focus on their core competencies that facilitates the ability to offer full process solutions to their customers.'
Sean Phelan, Director of QCD Solutions
Overview of UMI Aernautica
Founded in 2006, UMI Aeronautica specialises in the manufacture of mechanical parts from small to big, with high technological value and complex small sub-assemblies. The group has a historical presence in Spain with 4 plants and has established sites in Morocco.
UMI Aernnautica designs competitive solutions tailored to the needs of its clients in the aeronautical, space, defence, energy, transportation and medical sectors. Thanks to its fully integrated production process, from materials through to sub-assemblies, and its expertise with advanced conventional techniques.
Overview of OMI
Officine Meccaniche Irpine (O.M.I.) works in Aerospace Industry since over thirty years, by consolidating supply relationships and collaborations with major national industries (Italy) for production of parts and equipment.
Production departments were born and raised in the "Industrial Area Calaggio" in Lacedonia, in province of Avellino, on a covered area of 15,000 m2, in which 100 workers are employed; while in P.I.P Area of Vallata, few kilometers from the historical OMI site, two new Plants of 7500 m2 each, supporting surface Treatment Processes and manufacturing of Composites parts.
Overview of Takumi Precision
Established in 1998 Takumi Precision specialise in the manufacture of Precision Components and Sub-assemblies for the Aerospace and Medical Device Sectors. Supporting both serial production and quick turnaround requirements utilising advanced manufacturing technologies. Our supply chain and manufacturing services are integrated using best-in-class software technology, allowing for the design, assembly and distribution of quality products at competitive prices.
Overview of Lenane Precision
Established in 1994 Lenane Precision Ltd services the Aerospace, Medical Device and Automotive sectors manufacturing machined components and sub-assemblies.
Overview of Shannon Precision Engineering
Shannon Precision Engineering (SPE) was founded in 1978, and serves the Aerospace, Automotive and Oil & Gas sectors. SPE supply complex machined components and assemblies in the most challenging and quality driven sectors.
Overview of DPF Engineering
DPF Engineering, based in Carlow, Ireland have been manufacturing complex metallic components and assemblies for the Aerospace and Med-tech industries since 2010. We have a Centre of Excellence approach at DPF Engineering, which underscores the importance of skills advancement, process improvement and investment in high tech CNC machining and lights out manufacturing equipment.
Foot Note to the Press Release
This partnership has been designed and developed by Mr. Joaquin Gonzalez Stetzelberg, CEO at AERO SM Associates, a global sourcing, supply chain and business consulting company. (www.aerosm.com)
Takumi Precision, Lenane Precision, Shannon Precision Engineering and DPF Engineering (The Irish Companies) were supported by Sean Phelan, Director at QCD Solutions, a global sourcing, supply chain and business consulting company. (www.qdcsolutions.com)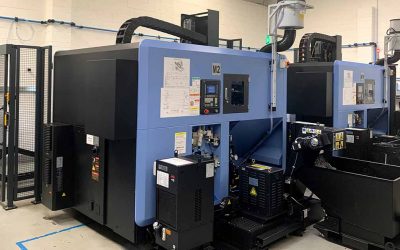 Lenane Precision's new automated manufacturing cell was the cover story for MADE In Ireland's March 2020 Edition an Irish engineering manufacturing publication focusing on developments in Irish industry.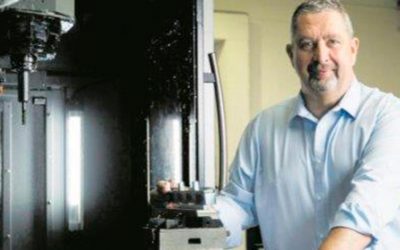 Lenane Precision has secured a ten-year deal with Bombardier for the supply of mechanical components. This deal has generated some good publicity for Lenane Precision, most notably in a Business Post article by Elaine O'Regan. Read the article below.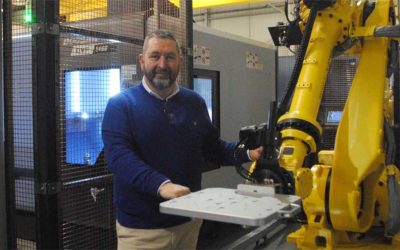 Recently, here at Lenane Precision we took delivery of our new custom-designed and built automated manufacturing cell. The system comprises two Siemens 840D-controlled Doosan DVF 5000 (5-axis) machines and a Fanuc industrial robot and can operate 24/7. It is currently undergoing tests and we are looking forward to putting into full production soon. For more details read the Mills CNC press release below.